Valentine's Day is right around the corner and my daughter has already inquired about wanting to give out Valentine's to all of her friends. Minted.com makes it affordable and special to give personalized cards to your friends and loved ones.
New! Classroom Valentine's Day cards, starting at $16 for 15.



These fun 2.5" x 3.5" cards are perfect to hand out in the classroom.
There are unique designs, your kids can choose from to delight their

classmates this Valentine's Day. Family and friends will appreciate receiving Valentine's Day Photo Cards customized with your favorite family photo and a personalized greeting.
All Valentine's Day cards are available on your choice of thick Signature paper, 100% recycled Premium paper, or Pearlescent paper.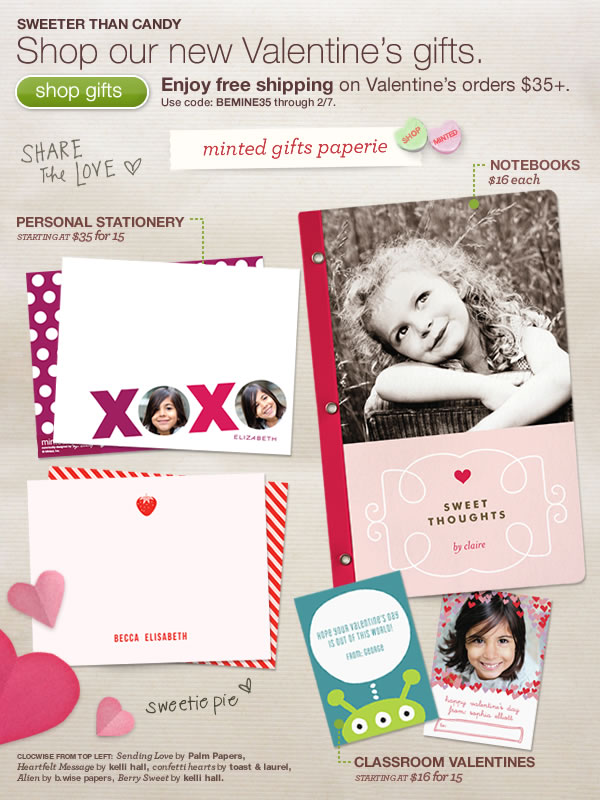 I chose the flat card Classroom Valentine Cards, printed on their signature paper that is thick and has a quality feel.
I have the sweetest picture of my daughter that was too perfect for one of their photo cards but it was a tough choice. My second favorite was their art work card. I really like that the child's piece of art work would be printed with a little picture of the artist in the corner.
They measure 2.5″ x 3.5″ and come with little envelopes.