Tea's newest Modern Mexico collection!
I love tea and not just the drinking kind. The
Tea collection
is much like the drink, that is shared in many cultures offering inspiration, warmth and mindfulness. Their children's fashions bare the tagline "for little citizens of the world," celebrating the beauty found in cultures around the world.


The Modern Mexico collection is one of my favorites and it's perfect for this autumn season! I got the sweet
Skinny Pointelle Leggings that not only matched the sweet top pictured above but
they also match perfectly with the
Día de Mercado Dress (pictured above)
.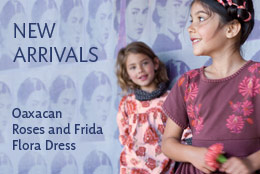 Tea finds it's beauty through places around the world. Those colors, shapes, sounds, and movements found in these different cultures are exemplified in their pieces. Tea Collection is inspired by the beauty of cultures around the world and channels those inspirations into apparel with a modern, global vibe.
Tea Collection has also designed a collection for women, which features sweaters, scarves, and a versatile effortless style you can wear anywhere. The Tea collection has
Children's clothing
,
Girl's clothing
,
Boy's clothing
and
Baby Clothes
too!

What I like about Tea is that their clothing is not only fashionable but ultra soft, breathable and movable. It is also machine washable. Yes, I am a big fan!
My favorite are their Girls dresses and mix and match sets. They also carry tops, leggings, pants, shorts, sweaters, and even outerwear, pajamas, and shoes.
Visit www.teacollection.com to check out all of their beautiful clothing,
Also, I found a lot of beautiful Tea clothing on ale at Nordstrom's this past weekend!