My little girl who is turning 6 in a few days wanted a mermaid birthday themed party. Living in Hawaii made it an easy task since I knew this would be a perfect pool party. You can find lots of Ariel, The Little Mermaid theme, but if you are looking for a general mermaid that matches your little one you will have to look a little harder. I was actually excited about this because even though it was difficult, I enjoyed the creativity of planning such a party.
I did a lot of hunting around to make her party special and to gather all of the mermaid products to make her birthday party a SPLASH!
Hiring a Mermaid:
The absolute hit of the party was having a "real" professional mermaid come and swim with the children. For my readers from Hawaii, you probably have heard by now of Mermaid Kariel. She is beautiful, an awesome swimmer, and fantastic with children and one of her specialties is mermaid birthday parties here in Hawaii.
If you live in Hawaii and want to make your event a memorable one, then visit this amazing mermaid. She is pretty popular, working with some big companies, so book ahead! Check out her page on Mermaid Birthday Parties.
How to turn your birthday into an ocean theme?
Use lots of aqua blue and green streamers as seaweed. My daughter wanted to have pink mingled in, so we had lots of accents of pink in the balloons and decorations. Also, purchase some nets at any party store for a few dollars which you can drape on top of the table cloth, which gives a nautical feel.
I went through Birthday Express for a fantastic party pack of
Mermaid party supplies
. I found sweet plates, cups, blue plastic cutlery, aqua teal balloons, and mylar balloons that have those sweet mermaids on them. They also have table covers which I got blue for the food table and pink for the guest tables.
Next, cover the space
You can purchase large wall coverings that look like an ocean but you can also do it your self. I started to paint and draw these cute sea creatures and mermaids with my daughter a week before after I got inspired by Birthday Express.
The Cake:
We decorated a cupcake stand and then made each cupcake look like a beach scene with graham crackers (sand), blue icing (ocean), and an umbrella. Then I made a cake topper to add to the top.
The Mermaid Birthday Favors:
Since her birthday is near the ending of October we decided to give pumpkin plants to all of the children.
We started with those little terracotta plant holders and my daughter hand painted each one (this was actually a really fun project) After they dried we added some mermaid stickers, dirt, and a pumpkin seed a week before the party. The night before the party, they were all a few inches high already and we placed them in these cute handmade gift bags by Rock Paper Scissors CPG . They have Little Mermaids Goodie Bags and Toppers for great prices

.

All we had to do was staple and add some confetti paper!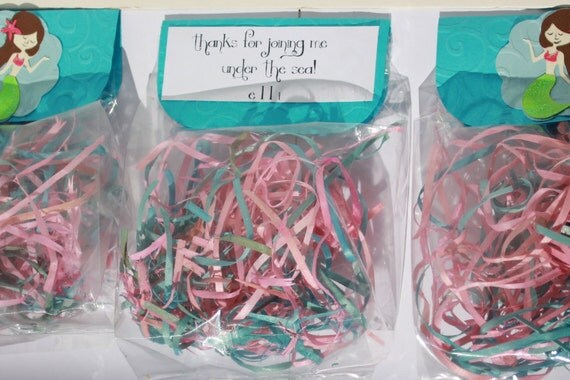 To save time you can always do water guns, bubbles and other ocean trinkets at your local party store and fill these sweet bags.
The Food:
We had
*Sushi sandwiches (turkey, cheese, cream, cheese on tortillas)
*Sea cucumbers (pickles)
*Star Fish (pb&j sandwiches)
*Oysters and pearls (cookies with marshmallows inside)
*Crab Salad ( potato salad with crab meat and peas)
*Gold Fish (crackers)
*Salt water and Mermaid Punch to drink
The Mermaid Costume:
There are a lot of mermaid costumes for kids but again most of them are Ariel. I absolutely love this one from BuyCostumes.com - Magic Mermaid Child's Costume. It is really beautiful for $26.99. I also added a crown to the costume by adding shells to a crown we had at home.
The Mermaid Games:
*We played a Go Fish which was super easy. Just use a sheet and tie a sting with a clip around a pole. Next, purchase some cute water related toys for them to fish for.
*Pin the tail on the mermaid
*Treasure hunt
There are so many options and don't forget that you can include the boys as well like having names such as scuba divers or pirates.
I hope this list helps you plan the best ocean themed mermaid party for your child!