Hasbro makes family night fun with games such as
Sorry! Spin
,

Twister, Monopoly, or a few other classics.
Sorry! Spin, was a new game that I was able to review recently.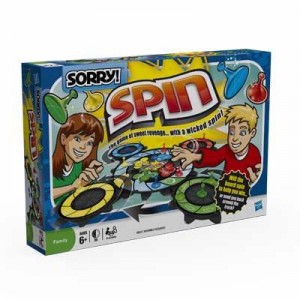 Sorry! Spin
has
twists and turns that never end in this fun game! Just like in the classic SORRY game, your goal is to get your pawns back to their same-colored home. But watch out: in the SORRY SPIN game, if you draw a Spin Card, the playing board turns and you could end up getting closer to your goal — or whizzing right past it! In a SORRY SPIN showdown, revenge is sweet…unless the board spins and the revenge is on you.
Sorry! Spin, is very engaging and will have everyone at the edges of their couch. The spinning boards will make you squeal. I'm not sure who liked it more the adults or kids.
You can find
Sorry! Spin
at many stores such as Wal-Mart, and Target or on the Hasbro's website.
*Product provided for review purposes. All opinions are Mom's Best Bets