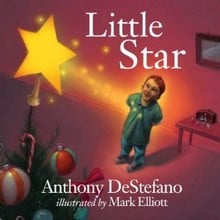 "I think I understand!" Little Star cried out. "The baby Jesus is a king! He's just little!"
A king is about to be born! The stars in the heavens are competing to shine the brightest to celebrate his birth. But when they see the poor family, the donkey, the shabby stable, the stars all think, That can't possibly be a king. We've been fooled.
All except one.
The smallest, loneliest star in the sky, Little Star, is the only one to understand what the king was about to bring to the world. But what can Little Star do for him?
Little Star

written by

Anthony DeStefano

is a sweet Children's Christmas picture book. Every year we add to our Christmas book collection and Little Star is our newest addition. My daughter enjoyed this story and has asked me to read it to her several times this week. I like the connection that is drawn between
the star atop our Christmas tree to the true meaning of Christmas and to the birth of Jesus.
You can purchase it at amazon.com
*This post was written for Family Review Network &
Little Star who provided the complimentary product for review in
exchange for my honest opinions