Well, last week I got to meet a mermaid. Don't believe me? Then check out the video below. She is a beautiful, multi-talented, and inspirational mermaid that lives here in Hawaii!
She is already getting pretty popular here in Hawaii. Her name is Kariel. I also love the fact that she is a "green" mermaid!
More about Mermaid Kariel: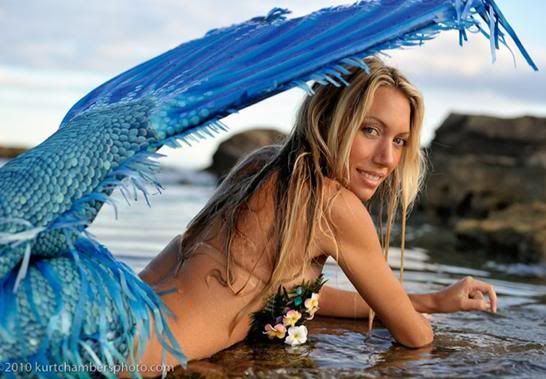 Photo by Kurt Chambers
Is the Kariel moniker a spin-off of Ariel from "The Little Mermaid"?
Yes, My Mom named me Kariel because I have been a mermaid my entire life.
When did you first come up with the idea to create a tail and become a mermaid?
I decided to make a tail about 2 years ago when I moved. Hawaii is the perfect place to swim with a tail. I had always wanted a mermaid tail since I was about 4, I watched The Little Mermaid in the theater as a girl. I've been pretty much obsessed since then. Then I saw Splash! That was a great movie too.
I remember when computers were just getting popular and I would look online, trying to find who made that tail (from Splash) and how to get one. It was around $5,000 as I remember. Which seemed like millions in the 80's. But that's the moment I knew it was possible to make a tail that could swim in the water.
You made the tail two years ago. What materials is it made out of? What do you have to do to repair the tail?
I have made over 20 tails in my life. These 2 are my first water efficient tails. On every swim there is usually maintenance and up keep required on the tail. because I hand craft them my self I am able to repair them as well. I hand craft my tails using recycled/used wet suits, ecco friendly paints and many more things made by my imagination. I guess you can call me a GREEN mermaid :-) I have a room in my house dedicated to storing my tails and my equipment. I always wash my tails with fresh water after every use. I finished the Pink tail after 350 hours and the blue after 400. I am now working on my third water tail. I hope to finish it by December.
What was the most difficult adjustment from being a human swimmer to a mermaid swimmer

?
Although I have always loved the water I wasn't always a good swimmer, in fact I suffered from constant ear aches as a child, which has left me with APD ( Auditory Processing Disorder.). It a minor disability but really prevented me from keeping up with the other kids in my class. When other children were playing after school I had hours of brain exercises to study. I have pretty much overcome most of the disability, however, this really hurt my self esteem growing up. Now I swim very well and I focus on all the things that I am talented at. Although, I might lack in areas where others excel I have my own unique talents. Everyone has something that makes them unique and special and I want to get that message out to the world. My dream is that self esteem is lifted in children and they recognize how they can affect others as well. If people can get over the fear of what others think, imagine what are world would create and accomplish.
What would you tell little girls that want to grow up to become mermaids themselves?
I would tell them to go for it. Lots of kids email me from my website and from my
Youtube channel
, and they'll say, I wish I could do it but my parents or somebody will laugh at me. It just goes back to self esteem- if you have a dream, I say go for it. Even my friends laughed at me for years. But then I had this idea and actually went through and created it. So many people laughed about it and thought I was silly for spending all this time making this tail, but now that it's finished people are amazed.
Where do you hope to go with all of this?
MY BIGGEST GOAL IN LIFE IS TO MAKE AN AMAZING IMPACT ON THE WORLD. In every thing I do I want it to help someone else, weather it be in fitness, health, emotions or esteem. I want my children book to be in all elementary schools in the United States and be a part of there self esteem course. I want the proceeds of the book to make a great impact on disease and sickness with those that suffer from cancer and diabetes. I also want to do all of this while creating financial stability for me and my family.
*

She is also working on a children's book and a mermaid inspired swimwear line, so stay connected with Mermaid Kariel for all of her latest appearances, news, events, and videos.