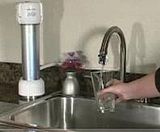 The
Zuvo Water
Filter is a slender and smartly-designed Purator that fits in your kitchen either above or under the counter.
Better for Your Health
The Zuvo Water Purator replicates nature's water-cleansing process, reducing contaminants while preserving your water's natural and healthy mineral content.
Better for your wallet
Over time, Zuvo costs a fraction of what you'll spend on bottled water or pitcher filters.
Better for the planet
With Zuvo, you can make a difference by not adding to the more than 60 million plastic water bottles that end up in our landfills every day.
The Zuvo Water Purator™ uses a patented five-step process to produce clean, healthy, great tasting water...just the way nature intended
Step 1: Ozonation
In nature, ozone is generated by lightning and cleans the air where rainwater forms. The Zuvo Water
Purator
mixes ozone with incoming tap water to treat taste and odor contaminants and improve taste. Like chlorine, ozone is a powerful oxidizer. Unlike chlorine, ozone leaves no chemical residue.
Step 2: Ultraviolet Light
The ozone saturated water is flooded with high-intensity UV light – the same as the solar energy that cleans water in the upper atmosphere.
Step 3: Photo-oxidation
The Zuvo Water Purator combines UV and ozone in a patented process known as photo-oxidation which releases powerful oxidizers to further treat the water.
Step 4: filtration with lead removal
Pure spring water is created by passing through fine particles in the earth. Zuvo uses the same principle by passing water through a Class 1 Particulate Reduction Filter, reducing chlorine taste and odor, lead, and tiny particulates.
Step 5: post-filtration UV
The filtered water is again exposed to high-intensity UV light as it leaves the Zuvo Water Purator, ensuring that you get clean, healthy, great tasting water…just the way nature intended!
In about 5 minutes I had my Zuvo attached to my sink faucet and ready to work. The noticeable change was that when I took a sip there was no
chlorine taste (which was fabulous)!
I definitely recommend purifying your drinking water and the Zuvo is an affordable and easy way to bring better quality water into your home.
The only issue is that the water is room temperature. So, if you like to drink cold water, then fill a pitcher to put in the fridge or make some ice-cubes with the Zuvo.
You can get a Zuvo (above the counter) for $299.99.
You can also WIN one here!
GIVEAWAY
To Win tell me why you want to win a Zuvo.
1 Extra Entry - Follow Me with Google friend connect
1 Extra Entry - Follow Zuvo and MBB on Facebook
1 Extra Entry - Follow me on Twitter
3 Extra Entries if you put my NEW button up on your blog.
*See right hand side for Wellness Wednesday Button

*Giveaway ends 11/3th. Open to USA
*This post was written for Family Review Network & Zuvo who provided the complimentary product for review and giveaway in exchange for my honest review